Life Events
Holy Baptism, Confirmation, Reception into the Episcopal Church, Holy Matrimony and funerals all represent important life events that are truly celebrated here at St. Peter's / San Pedro.
Sacrament of Holy Baptism
Anyone seeking to be initiated into Christ's body, the Church, is most welcome to receive the Sacrament of Holy Baptism at St. Peter's/San Pedro Episcopal Church. Arrangement for infant, child and adult baptisms are made with the rector who will work with each person to help prepare for this holy rite individually.
Confirmation and Reception
Confirmation and Reception into the Episcopal Church are celebrated by a bishop at a regional gathering or during a bishop's planned visitation to the parish. Our rector can help you coordinate the best timing and location for either of these special rites and properly prepare you for them.
Holy Matrimony
Holy Matrimony is a sacramental rite of the Episcopal Church reserved for couples that have at least one member who is a baptized Christian. The Episcopal Church requires that couples wishing to be married in the Church should first receive the counsel and support of their parish priest. Couples interested in Holy Matrimony should contact the rector as soon as possible, and well before the date of the marriage is to take place, to allow for adequate time for the necessary preparations. Fees associated with marriage at historic St. Peter´s/San Pedro Church include a $1,000 facilities fee, a $250 clergy fee and a $250 organist fee.
The death of a loved one
The death of a loved one is a precious moment often filled with tremendous grief and loss, thankfulness and hope. Our rector is available for pastoral emergencies in advance of, at the time of, or after the death of a loved one. The rector will meet with each family prior to a funeral to provide pastoral support as necessary, and to ensure that the funeral arrangements are respectful of the decedent's and family's wishes. Options for a funeral liturgy with or without Holy Communion, at the church, funeral home or graveside will all be explored and honored as appropriate.
To reach our rector
To reach our rector for a pastoral emergency, please call 978-290-8622. To arrange for Holy Baptism, Confirmation, Reception into the Episcopal Church or Holy Matrimony, please email our rector at priest@stpeters-sanpedro.org.
Additional rites
There are a number of additional rites within the church that are available to those who wish to celebrate them. They include: First Communion, the Blessing of a Home, a Quinceañera celebration and the blessing of a marriage already performed. If you are interested in any of these rites performed for yourself or a family member, please contact our parish office for more details and to arrange a meeting with our rector.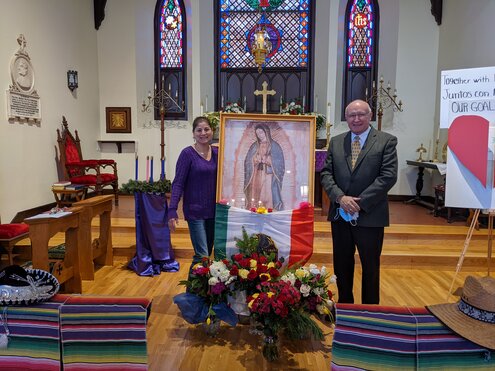 Eventos de la Vida
El Santo Bautismo, la Confirmación, la Recepción en la Iglesia Episcopal, el Santo Matrimonio y los funerales representan eventos importantes de la vida que se celebran en St. Peter's / San Pedro.
Sacramento del Santo Bautismo
Cualquier persona que quiera ser iniciada en el Cuerpo de Cristo, que es la Iglesia, es bienvenida a recibir el Sacramento del Santo Bautismo en la Iglesia Episcopal de St. Peter´s/San Pedro. Los arreglos para los bautismos de bebés, niños, niñas y adultos se hacen con el rector. Él trabajará de manera individual para ayudar a cada persona a prepararse para este rito sagrado.
La Confirmación y la Recepción
La Confirmación y la Recepción en la Iglesia Episcopal son celebradas por uno de nuestros obispos en una reunión regional o durante la visita de uno de nuestros obispos a la parroquia. El rector ayuda a coordinar el mejor momento, la ubicación para cualquiera de estos ritos especiales y se encarga de prepararlos adecuadamente.
El Santo Matrimonio
El Santo Matrimonio es un rito sacramental de la Iglesia Episcopal reservado para parejas en las cuales uno de los miembros es cristiano bautizado. La Iglesia Episcopal requiere que las parejas que deseen casarse en la iglesia reciban el consejo y el apoyo de su sacerdote. Las parejas interesadas en el Santo Matrimonio en St. Peter´s/San Pedro deben comunicarse con el rector tan pronto como sea posible, y mucho antes de la fecha del matrimonio, para permitir el tiempo adecuado para los preparativos necesarios. Cotizaciones para casarse en la histórica Iglesia de San Pedro incluyen $1,000 para el lugar, $250 para el clérigo y $250 para el músico.
La muerte de un ser querido
La muerte de un ser querido es un momento único, a menudo lleno de tremenda pena y sensación de pérdida, agradecimiento y esperanza. En St. Peter´s/San Pedro el rector está disponible para emergencias pastorales antes de, en el momento de, o después de la muerte de un ser querido. El rector se reunirá con cada familia antes del funeral para brindar apoyo pastoral según sea necesario, y para asegurar que los arreglos funerarios respeten los deseos del difunto y de la familia.
Las opciones para una liturgia funeraria con o sin la Santa Comunión, en la iglesia, en la funeraria o en la tumba, serán exploradas y respetadas según las preferencias de la familia.
Para comunicarse con nuestro sacerdote para una emergencia pastoral, llame al 978-290-8622. Para organizar el Santo Bautismo, la Confirmación, la Recepción en la Iglesia Episcopal o el Santo Matrimonio, envíe un correo electrónico a nuestro rector a priest@stpeters-sanpedro.org.
Ritos adicionales
Hay una serie de ritos adicionales dentro de la parroquia que están disponibles para aquellas personas que deseen celebrarlos. Dichos ritos Incluyen: la Primera Comunión, la Bendición de un Hogar, una Quinceañera y la bendición de un matrimonio ya realizado. Si está interesado/a en alguno de estos ritos ya sea para usted o para un miembro de su familia, comuníquese con la oficina de nuestra parroquia para obtener más detalles y concertar una reunión con el rector.