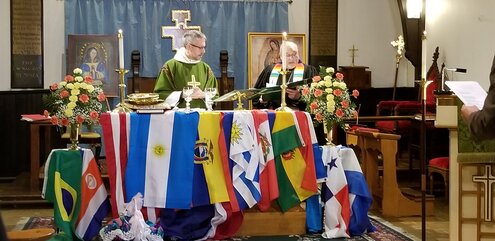 All are most welcome to worship at St. Peter's! ¡Todos son bienvenidos a adorar en la Iglesia de San Pedro!
Our Holy Eucharist lasts about an hour. Nuestra misa dura alrededor de una hora.
Our services are offered in both English or Spanish, and we worship together in a bilingual service at least once a month. Ofrecemos misas tanto en inglés como español y ofrecemos en una misa bilingüe al menos una vez al mes.
Children are most welcome here! Noise is not a concern! There is a pew with children's books on the back left side if you would like to use it. Los niños son bienvenidos aquí y el ruido ne es una preocupación. Hay un banco con libros para niños en la parte posterior izquierda si desea usarlo.
Restrooms for parishioners are located in the Parish Hall that can be accessed through our Sacristy at the front of the church to the left of the altar. Los baños para los feligreses están ubicados en el Salón Parroquial que se puede acceder a través de nuestra Sacristía en el frente de la iglesia a la izquierda del altar.
Handicapped access is available through our handicapped accessway between the church and our Parish Hall. A handicapped lift is located just inside the building there. El acceso para discapacitados está disponible a través de nuestro camino de acceso entre la iglesia y nuestro salón parroquial. Un ascensor para discapacitados se encuentra justo dentro del edificio.
At all of our services, Gluten-free bread is available upon request at the altar, one can receive both bread and wine or simply the bread as is their preference, and anyone wishing to have Holy Communion brought to them at their seat instead of at the altar need only to make their desire known to the priest or a server at The Peace. En todos nuestros servicios, pan sin gluten estará disponible en el altar si usted lo requiere. Puede recibir pan y vino, o solamente pan según su preferencia. Si alguna persona desea que le lleven la Sagrada Comunión a su asiento en vez de tener que acercarse al altar, solamente necesita decirle al sacerdote o a cualquier ayudante durante el intercambio de la Paz.