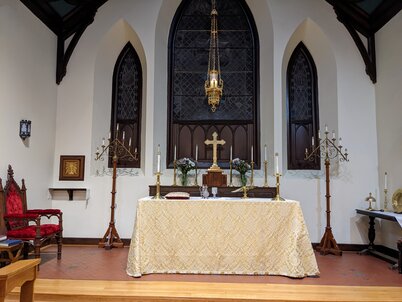 One of Jesus' first actions after his baptism in the Jordan River was to call his disciples to join him in ministry to build a community of believers to love and serve God. Here at St. Peter's/San Pedro, we worship God in community most Sundays at 9am in English and 12:30pm in Spanish. On the last Sunday of the month when we celebrate a bilingual Holy Eucharist together at 10:30am.
When we celebrate the Holy Eucharist (also known as Holy Communion, the Lord's Supper and Eucharist) we intentionally invite all baptized Christians, regardless of denomination or lack of one, to join us at the Lord's table using the rich resources of the Book of Common Prayer.
Worship within the Episcopal Church is filled with opportunities for active lay participation where members of the community come together to love and praise the Lord through prayers, Holy Scripture,
homilies and music that are both grounded in tradition and beautifully diverse and responsive to the needs of our present day community. We wholeheartedly invite you to join us!
Una de las primeras acciones de Jesús después de su bautismo en el río Jordán fue llamar a sus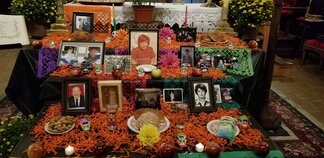 discípulos para que se unieran a él en el ministerio, para construir una comunidad de creyentes para amar y servir a Dios. Aquí en St. Peter's/San Pedro, adoramos a Dios en comunidad generalmente los domingos a las 9 am en inglés y a las 12:30 pm en español. El último domingo del mes, celebramos juntos una Sagrada Eucaristía bilingüe a las 10:30 am.
Cuando celebramos la Sagrada Eucaristía (también conocida como la Sagrada Comunión, la Cena del Señor y la Eucaristía), invitamos intencionalmente a todos los cristianos bautizados, sin importar su denominación o falta de ella, a unirse a nosotros en la mesa del Señor utilizando los ricos recursos del Libro de Oración Común.
La adoración dentro de la Iglesia Episcopal está llena de oportunidades para la participación activa de los laícos donde los miembros de la comunidad se unen para amar y alabar al Señor a través de oraciones, Sagradas Escrituras, homilías y música que se basan en la tradición y son diversas y sensibles a las necesidades de nuestra comunidad actual. ¡Le invitamos de todo corazón a unirse a nosotros!
Taizé at St. Peter´s/San Pedro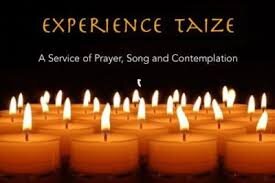 On the first Wednesday of each month at 7pm, we offer a meditative Taizé Prayer Service that incorporates the repetition of melodic tunes and multiple languages to calm the soul and offer our full attention to God. Volunteers are always welcome to offer the prayers in their language of origin. Join us!
Taizé en St. Peter´s/San Pedro
El primer miércoles de cada mes a las 7 pm, ofrecemos un servicio de oración meditativo en Taizé que incorpora la repetición de melodías melódicas y múltiples idiomas para calmar el alma y ofrecer toda nuestra atención a Dios. Los voluntarios siempre son bienvenidos para ofrecer las oraciones en su propio idioma . ¡Únase a nosotros!