Serving those in need in Jesus' name is our goal at St. Peter's/San Pedro Parish. You are invited to join us in our ministries that strive to eliminate human suffering and offer hope to those who need it most. Join us!
Servir a los necesitados en el nombre de Jesús es nuestro objetivo en la parroquia St. Peter/San Pedro. Está invitado a unirse a nosotros en nuestros ministerios que se esfuerzan por eliminar el sufrimiento humano y ofrecer esperanza a quienes más lo necesitan. ¡Únete a nosotros!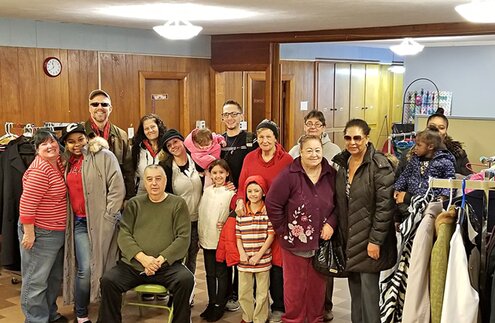 Our Winter Coat Closet
On the first Saturday of November, December & January from 9am to 12pm, we gather together at our Parish Hall all of the donated winter coats we've received and provide them free to any who need them.
Nuestro Almario de Abrigos de Invierno
El primer sábado de noviembre, diciembre y enero de 9am a 12pm en nuestro Salón Parroquial, ofrecemos abrigos de invierno gratis a todos que los necesitan.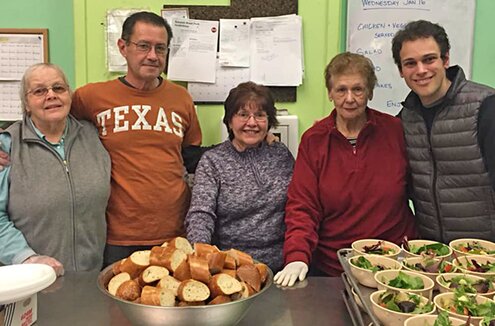 Feeding the Homeless at Lifebridge Shelter
Every month that has a 5th Saturday, the people of St. Peter´s/San Pedro Parish prepare dinner for about 100 people at the shelter. During COVID19, this means cooking trays of a particular recipe ahead of time and delivering it warm to the church at noon on Saturday for transport to the shelter.
Alimentar a las personas sin hogar en Lifebridge Shelter
Cada mes que tiene un quinto sábado, la gente de la Parroquia San Pedro / San Pedro prepara la cena para unas 100 personas en el albergue. Durante COVID19, esto significa cocinar bandejas de una receta en particular con anticipación y entregarla tibia en la iglesia al mediodía del sábado para transportarla al refugio.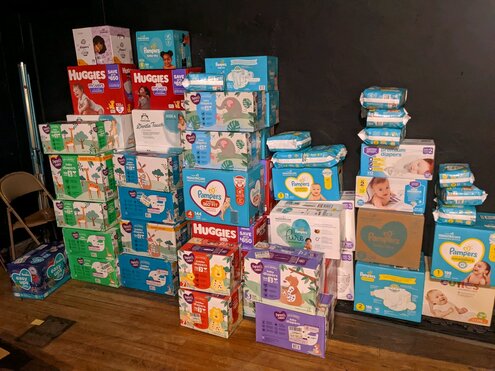 Collaborating with Mamás Unidas
Mamás Unidas is a local grassroots organization that supports young, Latina women with diapers and other resources to strengthen their ability to support their families and live healthy and independent lives. Our parish actively supports this ministry by collecting and distributing diapers and other young mother essentials and providing guidance and support of these powerful and talented women.
Colaborando con mamas unidas
Mamás Unidas es una organización de base local que apoya a las mujeres latinas jóvenes con pañales y otros recursos para fortalecer su capacidad de mantener a sus familias y vivir vidas saludables e independientes. Nuestra parroquia apoya activamente este ministerio recolectando y distribuyendo pañales y otros artículos esenciales para madres jóvenes y brindando orientación y apoyo a estas mujeres poderosas y talentosas.
Laundry Love
Everyone knows that it is essential to have clean laundry in order to find or maintain a job. Laundry Love is a national program that we at St. Peter´s/San Pedro Parish offer locally to help those in need to be able to afford washing their clothing and linens. Prior to COVID19, we gathered once a month at our partner Laundry Express Laundromat at 95 Congress St. to pay for the washing and drying of over 3,000 pounds of laundry per night. During COVID19, we have switched to Laundry Love cards that are prepaid for the laundromat we partner with and offer financial relief once a month to those in need.
Lavandaría Amor
Todo el mundo sabe que tener ropa limpia es fundamental para encontrar o mantener un trabajo. Lavandaría Amor es un programa nacional que nosotros en St. Peter's / San Pedro Parish ofrecemos localmente para ayudar a los necesitados a poder pagar el lavado de ropa y ropa blanca. Antes de COVID19, nos reuníamos una vez al mes en nuestro socio Laundry Express Laundromat en 95 Congress St. para pagar el lavado y secado de más de 3,000 libras de ropa por noche. Durante COVID19, hemos cambiado a las tarjetas de Lavandaría Amor que son prepagas para la lavandería con la que nos asociamos y que ofrecen alivio financiero una vez al mes a los necesitados.