Coat Closet Ministry
It's difficult at best to survive a New England winter without an adequate winter coat. On the first Saturday of each month from November to January, members of St. Peter's/San Pedro gather at the church from 9am to 12pm to provide free winter coats, hats, mittens and socks to those who need them for all ages.
Healing Ministry
Throughout his ministry, Jesus consistently healed people. Bringing healing to the sick and those in need of support is a vital part of our ministry at St. Peter's/San Pedro. In addition to pastoral care visits as needed, once a month our Holy Eucharist includes a liturgy for healing when all are invited to come forward for the laying on of hands and anointing with holy oil for healing.
Prayer Shawl Ministry
A beautiful prayer shawl hand knitted or crocheted with care can be a blessing at just the right moment. Men and women at St. Peter's / San Pedro prepare numerous prayer shawls each year that fly out of the parish often as soon as they arrive destined to comfort someone coping with a difficult diagnosis, a family crisis or just in need of support and love. No two shawls are alike, but all are blessed at the altar during a Holy Eucharist before they are offered free to those in need in our community.
Meals at Lifebridge Ministry

For every month that has a 5th Saturday, members of St. Peter's/San Pedro prepare a tray of a wholesome meal for our neighbors who attend the daily meals at Lifebridge in Salem. 60-100 people benefit from this wonderfully prepared home-made meals, and all who receive our meals always leave nourished, embraced and loved. Watch our calendar for the next 5th Saturday and let us know if you would like to participate and we will provide the recipe and drop off time and location. Thank you for joining in the fun of helping our neighbors in need and spreading Christ's love.
Mamás Unidas
St. Peter´s/San Pedro collaborates with Mamás Unidas to provide diapers and other critical support to young Latina mothers in our community.
Bags of Love for the Homeless Ministry
Developed by parishioners for those in need, our Bags of Love for the Homeless provide essential selfcare items to get them through a few weeks. Parishioners often keep one handy in their car so they can pass on this blessing in a bag to someone in need whom they encounter in their travels.
Laundry Love

Our volunteers help low-income residents in our neighborhood do their laundry for free. Prior to COVID 19, we gathered on the last Thursday of each month to help families and individuals pay for the washing and drying of their loads of laundry from 5-8pm at Sunshine Express Laundry, 95 Congress St, Salem.
During COVID 19, we provide $50 Laundry Love cards each month for families & individuals in need. The cards are generously provided by our donors and Sunshine Express Laundromat. Thank you!
Emergency Financial Assistance Ministry
COVID 19 has dramatically increased the need for emergency financial assistance. As funds are available from our donors, St. Peter's/San Pedro helps people with emergency needs. We distributed over $14,000 in direct assistance to families in 2021. If you would like to support this ministry or find yourself in need, please contact our rector.
Ministerio del Armario de abrigos

Es difícil sobrevivir un invierno de Nueva Inglaterra sin un abrigo de invierno adecuado. El primer sábado de cada mes, desde noviembre a enero, los miembros de St. Peter's/San Pedro se reúnen en la iglesia de 9 am a 12 pm para ofrecer abrigos, gorros, guantes y calcetines/medias de invierno gratuitos para todas las edades a quienes los necesiten.
Ministerio de curación
Jesús sanó constantemente a las personas en necesidad. Llevar la curación a los enfermos y a los que necesitan apoyo es una parte vital de nuestro ministerio en St. Peter's/San Pedro. Además de las visitas de atención pastoral según sea necesario, una vez al mes nuestra Sagrada Eucaristía incluye una liturgia para la curación y se les invita a todos los feligreses a pasar al frente para la imposición de manos y la unción con aceite santo para la curación.
Ministerio del chal de oración
Un hermoso chal de oración tejido a mano o tejido cuidosamente con ganchillo puede ser una bendición en el momento adecuado. Hombres y mujeres en St. Peter's/San Pedro preparan numerosos chales de oración cada año que se distribuyen tan pronto como llegan, destinados a consolar a alguien que enfrenta un diagnóstico difícil, una crisis familiar o simplemente alguien que necesita apoyo y amor. Cada chal es único, pero todos son bendecidos en el altar durante nuestra Santa Eucaristía antes de ser ofrecidos gratis a los necesitados de nuestra comunidad.
Mamás Unidas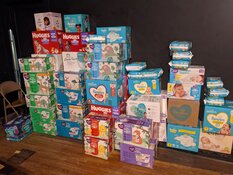 St. Peter's/San Pedro colabora con Mamás Unidas para proporcionar pañales y otro apoyo fundamental a las jóvenes madres latinas de nuestra comunidad.
Ministeria de Comidas para Lifebridge
En cada mes que tiene un quinto sábado, los miembros de St. Peter's/San Pedro preparan una bandeja de una comida saludable para nuestros vecinos quienes asisten a las comidas diarias en Lifebridge en Salem. Alrededor de 60 a 100 personas se benefician de estas comidas caseras maravillosamente preparadas, y todos los que reciben nuestras comidas salen siempre bien alimentados y con la sensación de ser amados. Mire nuestro calendario para enterarse cuándo cae el próximo quinto sábado y háganos saber si le gustaría participar y le proporcionaremos la receta y la hora y el lugar de entrega. Gracias por unirse con nostros para ayudar a nuestros vecinos necesitados y así difundir el amor de Cristo.
Bolsas de amor para el ministerio de personas sin hogar
Bolsos de amor para personas sin hogar fueron la idea de nuestros feligreses. Las bolsas brindan artículos esenciales de higiene personal para ayudar a las personas sin hogar por unas cuantas semanas. Los feligreses a menudo tienen una bolsa a mano en su automóvil para distribuir esta bendición a alguien que la necesita.
Lavandería del Amor
Nuestros voluntarios ayudan a los residentes de bajos ingresos de nuestro vecindario a lavar la ropa de forma gratuita. Antes de COVID 19, nos reuníamos el último jueves de cada mes para ayudar a las familias e individuos a pagar el lavado y secado de su ropa de 5pm a 8 pm en Sunshine Express Laundry, 95 Congress St, Salem.
Durante COVID 19, proporcionamos tarjetas de $50 al mes para familias y personas necesitadas. Las tarjetas son generosamente proporcionadas por nuestros donantes y Sunshine Express Laundromat. ¡Gracias!
Ministerio de Asistencia Económica de Emergencia
COVID 19 ha aumentado drásticamente la necesidad de asistencia económica de emergencia. Cuando hay fondos disponibles, St. Peter's/San Pedro ayuda a las personas con necesidades de emergencia. Si desea apoyar este ministerio o se encuentra en una necesidad, comuníquese con nuestro rector.